Who we are
Rent a street legal golf cart or Jeep
Looking to have the BEST time while visiting? Look no further than Daytona Jeep & golf cart rental for the best deals on the beach! We provide Street Legal golf cart & Jeep rentals for all occasions in the area.
Jeep and Golf Cart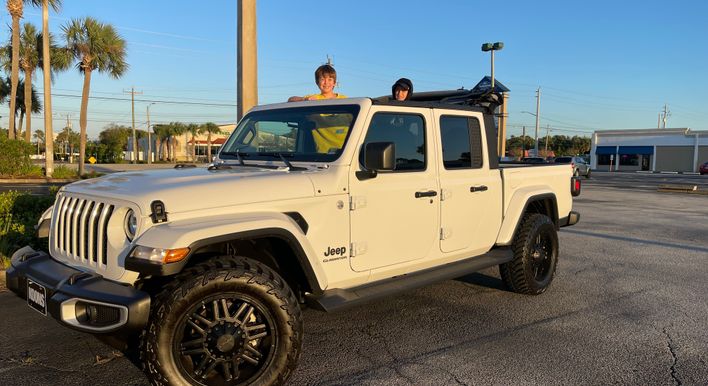 Explore Daytona beach the FUN way in one of our street legal golf carts or awesome Jeeps! Enjoying a nice cruise down the coast or the beach is a great memory of the Sunshine state.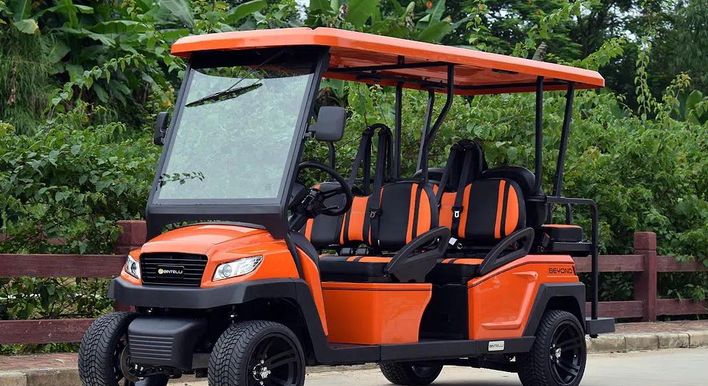 Enjoy the best of Daytona Beach in the comfort and safety of a street legal golf cart. We have a variety of models to choose from. Our street-legal golf carts are great for exploring and they're convenient.
Since 2015, Daytona Jeep & Golf Cart Rental has been providing the nicest golf carts & Jeeps at the lowest prices in the area.
Fun
The absolute #1 way to have FUN & get around town is in one of our street legal golf carts or Jeeps! We promise!
Experience
Top down in one of our Jeeps or cruising down the beach in one of our street legal golf carts will make visiting Daytona Beach the experience you were looking for.
Family-friendly
Whether in town for an event or visiting with family, we have you covered.
Eric could not have been any more accommodating or easier to deal with. His carts are of the highest quality and condition. I highly recommend Daytona Jeep Rental.
Lee Milazzo
7th November 2022
Great customer service, they delivered and picked up a golf cart that we rented. Nice cart, nice guys.
Dave Elliott
20th May 2022
Awesome carts & easy rental process!! We rented the 6 seater for 24 hours and had an amazing time!! Also loved that it didn't have advertisements all over it! It didn't have a radio in it, so make sure to bring a speaker! Will definitely rent again when we go back!
Elton Russ
20th April 2022
Awesome experience to be able to venture the beaches and souvenir shops without being on foot with great prices. Cheapest around !
Jack Davidson
20th October 2021
Best golf cart rental. love how they're always like new carts with a beach pass gas powered!!!! So fun great way to see the peninsula!!! Rented at Oceaninlet surf shop and get a free surf rack, to rent a foam surf board🌊🤙
Ocean Inlet
20th October 2021
The owner, Eric, couldn't have been more accommodating. The Jeep and service exceeded my expectations. Easiest vehicle rental experience of my life.
Eric Horn
20th October 2021
Eric was very responsive and accommodating too. The Jeep was extremely clean and a lot of fun. Thanks Eric!
Ken Brittain
20th October 2021
Found this company last year and we won't rent from anyone else. Just used them this past week and they accommodated us greatly due to early flights. Always great jeeps and lots of fun.
Previous
Next
Location
Daytona Beach, Florida
We are The only exclusive Jeep Rental in the area...or, try one of our Awesome Street Legal Golf Carts!!!
Rent for the day or for the week! Enjoy the Sunshine state and the World's Most Famous Beach in style. Explore the scenic loop in Ormond, have lunch on the water in Ponce inlet or take a casual cruise up the coast to Flagler beach in one of our Jeeps.
Conveniently located at 5584 S. Nova Road in Port Orange... you are only minutes from the airport as well as having fun in the sand.
We provide you with a prepaid beach pass with access (golf carts only) in Volusia county and an experience that will leave everyone else that rented a "normal" car/cart jealous.
Reserve Today!!! Call us at 386.449.9599
Frequently asked questions
Most frequent questions and answers
Hotels near Daytona Jeep Rental:
Book online now and secure your fun
.
Visit our website to book jeep and golf cart rentals online in Daytona Beach, Florida.